Carpet & Tile Cleaning in your Roseville, Folsom, ElkGrove or Sacramento Area Home Call 916-985-8973

Hi, my name is Roger Christensen, lead technician at 1-877 Quikdry. We here at 1-877 Quikdry, take the care and cleaning of your carpet seriously. High quality, truck mounted carpet cleaning does not have to be outrageously expensive either, we charge just $25 for a regular size room (see "Cleaning Prices"). Our guarantee: you'll be happy with our service or you won't pay a dime! Don't miss our "Before and After" photos below. Our primary service areas for carpet and tile steam cleaning are, but not limited to: Folsom, El Dorado Hills, Cameron Park, Rancho Murieta, Rancho Cordova, Sacramento, Orangevale, Citrus Heights, Elk Grove, Roseville, Rocklin, Lincoln, Carmichael, Granite Bay, Auburn, CA. and all points in between.
CARPET CLEANING INFO: THE MOST POPULAR cleaning method "Hot Water Extraction" or more commonly referred to as "Steam Cleaning" is the recommended cleaning method of the world's three leading carpet manufacturer's,SHAW, DUPONT STAINMASTER and MOHAWK.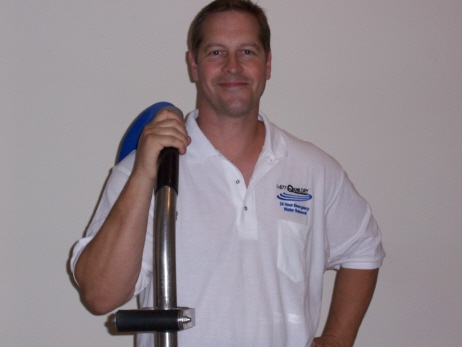 Is your home or office in need of a thorough carpet cleaning, if so you have come to the right place. Having the carpets cleaned in your home or office can be an effective means of reducing allergens. Bacteria, fungus, pollens, cigarette smoke, exhausts are all airborne particles that are carried into your home and eventually into your carpet. Regularly scheduled carpet cleaning, using hot water extraction more commonly known as "steam cleaning" and regular vacuuming, is important in extending the usable life of you carpet. Steam cleaning (hot water extraction) when done properly by a trained technician using modern carpet cleaning equipment and cleaning products produces the most dramatic and effective results. If you find that no matter how much you vacuum, your carpet still does not look like it used to, it may be time for deep cleaning. Hot water extraction is the only cleaning method classified as "deep cleaning". All the others are considered "light surface cleaning" because they are incapable of removing soil deep in the pile. These would be: Bonnet cleaning, dry foam, shampooing, and absorbent compound methods. All of these methods when done properly can produce effective results, however none as quite dramatic as hot water extraction. Despite all your efforts to keep your new carpet clean, it will inevitably become soiled. When carpet gets walked on, especially with shoes, dirt and grit gets ground into the fibers, causing wear and tear, inevitably, and without proper care, leading to a grayish or brown traffic lane. Vacuuming regularly can reduce this, but household vacuums do not have the same vacuum suction power as modern carpet cleaning equipment to remove all the dirt and allergens that accumulate. That is why you need regular, professional carpet cleaning, using the "hot water extraction" method. Shaw Industries, for example, which is the world's largest carpet manufacturer, recommends only hot-water extraction, for its carpet products.
---
Side by side photo of "cleaned" and "uncleaned" areas.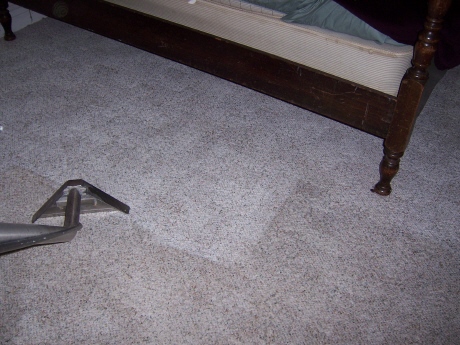 ---
"Before" photo of a highly soiled area near a garage door. Note the high number of grease and oil spots.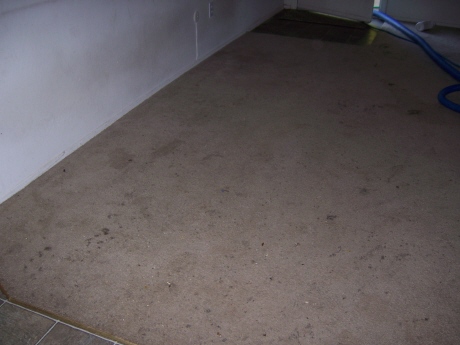 "After" being cleaned by a multi-step cleaning process.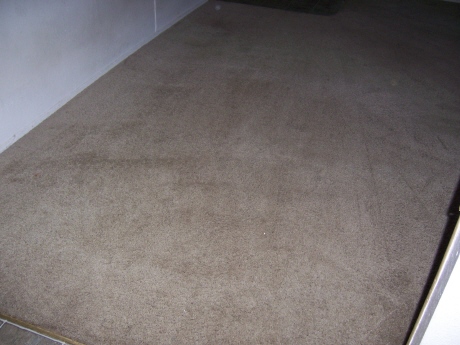 ---
"Before" photo of a hallway coming in from a garage.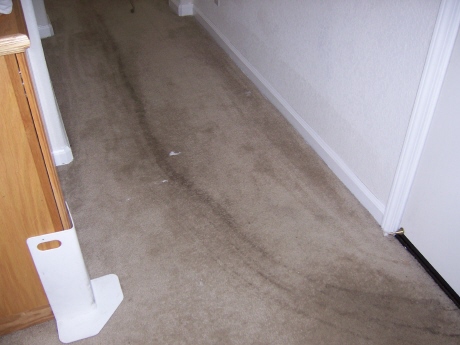 "After" being cleaned by a multi-step cleaning process.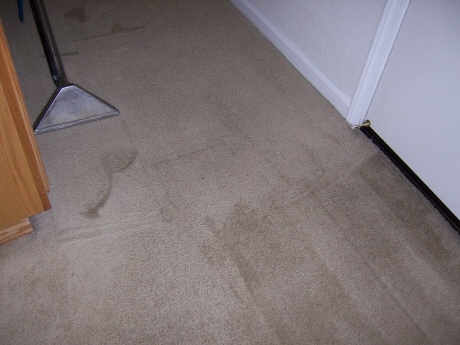 ---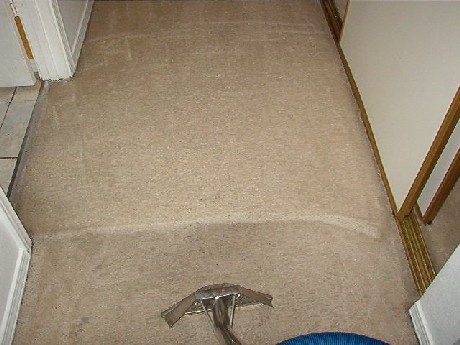 "Before" (bottom of picture) being cleaned by a Multi-step cleaning process and "After" (top of photo). What a difference!
---
In the photo above, another "Before" and "After" of a hallway that was acutally beige in color, underneath all the dark grey dirt and grime.
Folsom | Rancho Cordova | Roseville Ca | Sacramento | Rocklin | Lincoln CA | Citrus Heights | El Dorado Hills| Rancho Murieta | Elk Grove | Galt | Auburn| Water Removal, Extraction, Damage.|