Company Number 93638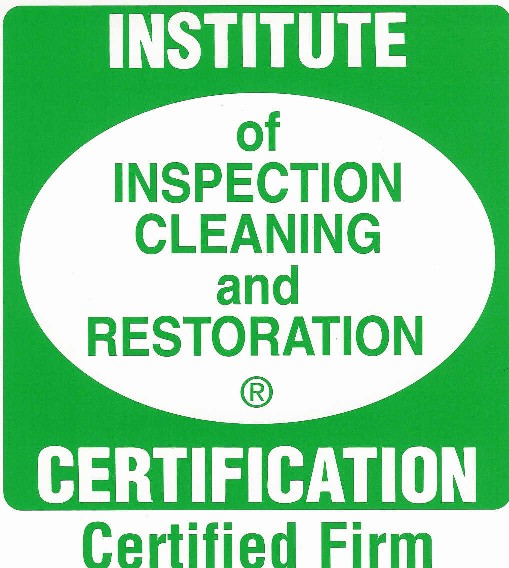 Why Hire a "Certified Firm" when you have a water damage or need your carpets cleaned?
All of the carpet in your home or office would look better and last longer if it is cleaned on a regular basis by a Certified professional. In fact, many manufacturers recommend professional cleaning to maintain warranties. The Institute of Inspection, Cleaning and Restoration Certification (IICRC) is an international, independent, non-profit certifying body. It was founded in 1972 to set standards for the cleaning/restoration service industry. The IICRC symbol is your assurance that the firm you hire has pledged to provide a qualified professional to care for your carpet and furnishings. IICRC Certification cannot be purchased. A firm qualifies by meeting rigorous standards of business ethics and expertise.
IICRC Certified Technicians:
* Have attended one or more IICRC - approved schools, successfully completing a written examination. * Maintain their credentials by participating in IICRC - approved continuing education programs. * Proudly offer proof of IICRC Certification. * Pledge to conduct business honestly, observing the IICRC Code of Ethics, and maintaining the highest standard of workmanship and service. * Are trained to identify fabrics and furnishings, to select approved cleaning methods, and to clean your furnishings with maximum safety and skill.
IICRC Certified Firms Are Your Best Choice Because:
* They are committed to provide cleaning and restoration services based on the highest standard of honesty and integrity. * They pledge to carry adequate liability insurance, and to implement quality assurance programs. * Their knowledge of cleaning and restoration is respected and recognized internationally by fiber producers, carpet and fabric manufacturers, and insurance company representatives.
IICRC Certified Firms and Technicians
* Certified firms have earned the right to display the IICRC logo and symbol of quality. They employ one or more cleaners or restorers who have achieved IICRC Certification through formal study, examination, and practical experience