CLEAN WITH THE POWER OF OXYGEN!
To schedule a cleaning appointment, call: 916-985-8973, or toll free at 1-877-784-5379. Keep Your Home Healthy and Beautiful with Power of Oxygenated, Soap Free, Truck Mounted Carpet Cleaning by 1-877 Quikdry.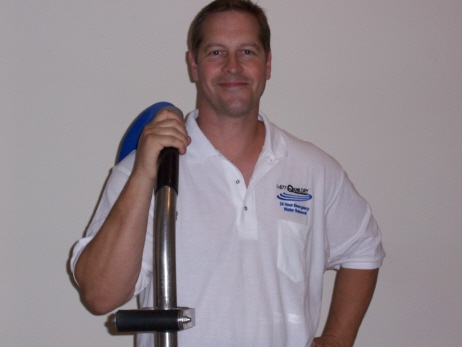 Hi, my name is Roger Christensen, lead technician at 1-877 Quikdry. We at 1-877 Quikdry take the health and cleaning of your carpet seriously. Our guarantee: you'll be happy with our service or you won't pay a dime!
If you or someone in your family is sensitive to soaps and allergens and yet you still need your homes carpets cleaned, then you're in the right place!
How do you get carpets clean without soap? We use a completely biodegradable, safe, residue free cleaner that utilizes natural oxygen released during the hot water extraction process to brighten carpets and wipe out microorganisms. Our cleaner contains no solvents, no butyl, no surfactants, no soaps and no chlorides making them allergen free! Carpets cleaned with the power of oxygen stay clean longer because no residue is left behind to cause re-soiling.
Soap Free Carpet Cleaning Prices:
Per Room (up to 225 sq. ft.) $35.00
Hallway (up to 4 ft. wide x 15 ft. long) $20.00
Large Master Bathrooms $15.00
Walkin Closets/Small Bathrooms $10.00
Small Room Closet/Hall Closets $5.00